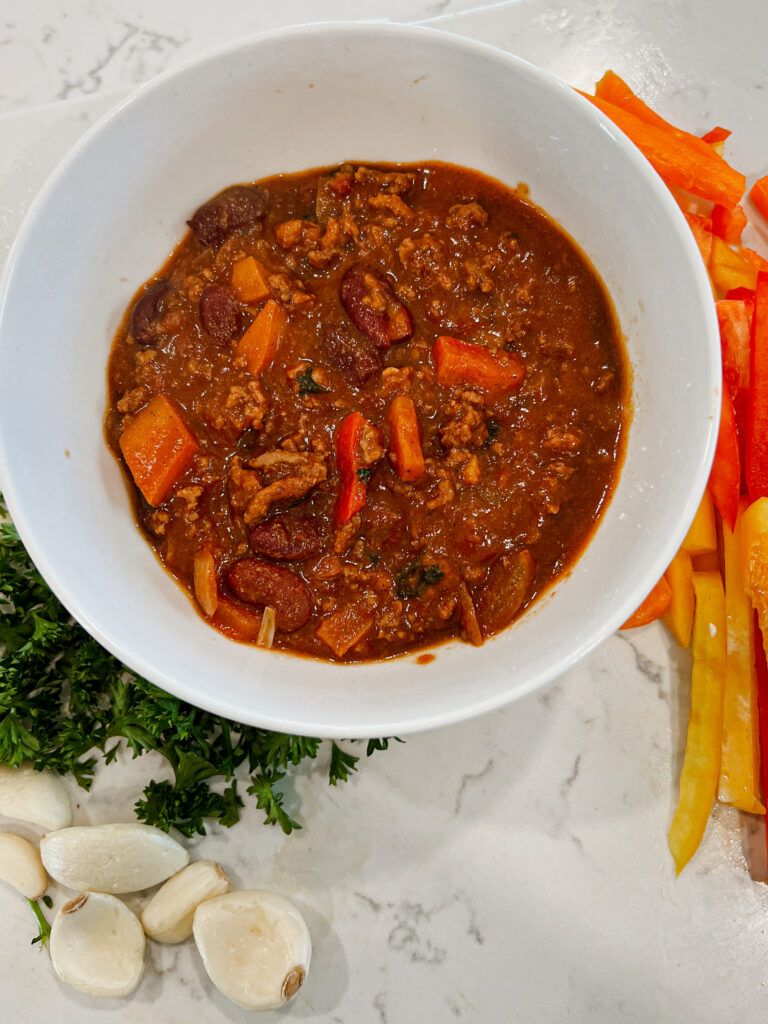 If you're looking for a simple Chili recipe with a little razzle dazzle, then keep reading. And as always, I promise I won't keep you too long.
This past Sunday, after a night of drinking and staying out until 3 in the morning on Saturday, Mitch decided he would request pot roast (recipe coming up next) and chili. I mean what were we going to eat while the roast took 4+ hours to cook? I happily obliged and only somewhat regretted it later (ha!). Alright, it's time to skip to the good part…
Ingredients
2 tablespoons olive oil or canola oil
1 medium yellow onion -diced
1/2 orange bell pepper
1/2 yellow bell pepper
1/2 red bell pepper
2 pounds of 80-90% lean ground beef (I like to get a pound of each)
4 1/2 tablespoons chili powder
4 tablespoons ground cumin
4 tablespoons tomato paste
2 tablespoon garlic powder
2 tablespoons masa harina (for thickening – see NOTE below)
2 1/2 teaspoons salt
1 teaspoon ground black pepper
1 teaspoon ground cayenne pepper (optional)
3 cups beef broth
1 (15 oz.) can crushed tomatoes
1 (16 oz.) can dark red kidney beans, drained
1 (16 oz.) can light red kidney beans, drained
1 (8 oz.) can tomato sauce
3 tablespoons of butter (for butter mixture)
1 handful of fresh chopped parsley (for butter mixture)
4 cloves of fresh garlic (for butter mixture)
Instructions
Add the oil to a large soup pot and place it over medium-high heat for two minutes. Add the onion and bell pepper. Cook for 5-7 minutes, stirring occasionally.
Add the ground beef to the pot. Break it apart with a wooden spoon. Cook for 6-7 minutes, until the beef is browned, stirring occasionally.
Add the chili powder, cumin, tomato paste, garlic powder, salt, pepper, masa harina, and optional cayenne. Stir until well combined.
Add the broth, crushed tomatoes, drained beans, and tomato sauce. Stir well.
Bring the liquid to a low boil. Then, reduce the heat (low to medium-low) to gently simmer the chili, uncovered, for 20-25 minutes, stirring occasionally.
While the chili is cooking, in another pan combine the butter, parsley and garlic. Stir until the butter melts and the mixture becomes fragrant. About 3-5 minutes – DO NOT BURN GARLIC (low/medium heat)
Pour the butter mixture into the chili and cook another 5 minutes
Remove the pot from the heat. Let the chili rest for 5-10 minutes before serving.
Note
Feel free to allow the chili to simmer on low for an additional 15 minutes for that extra oomph. We like our chili on the thicker side, but if you don't, feel free to reduce the amount of masa harina or add additional beef broth. Additionally, cooking your chili with a lid will also thicken it up, so keep that in mind.