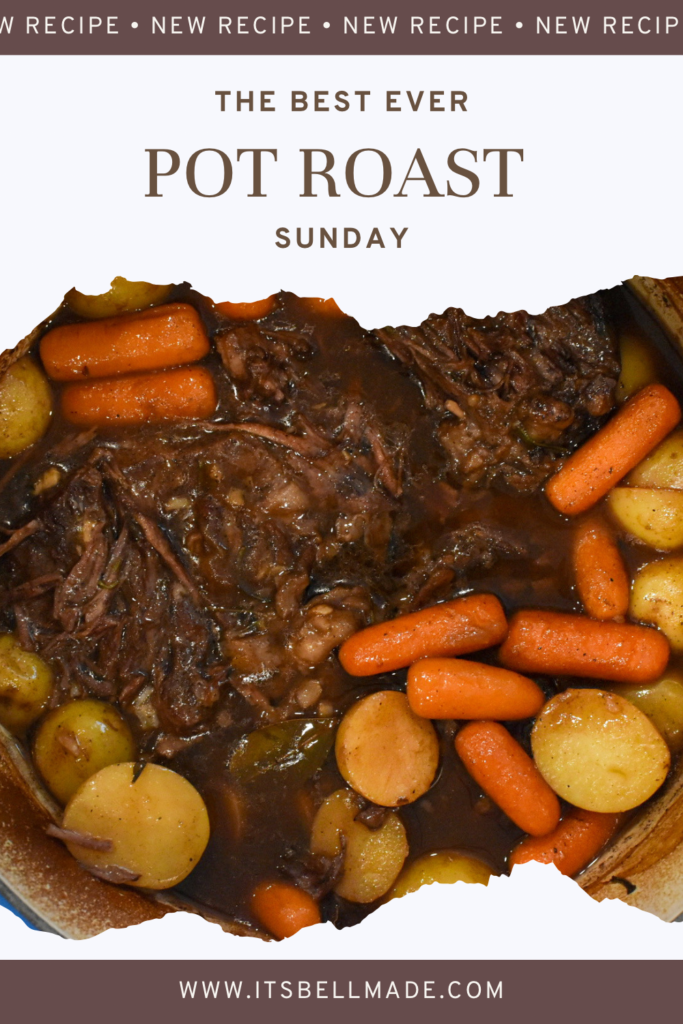 There's something special about a Sunday pot roast. It's a hearty and comforting meal that's perfect for feeding a crowd, or just enjoying with your family. Plus, it's easy to make and can be customized to suit your tastes. In this post, I'm sharing one of my favorite recipes for sa delicious Sunday pot roast, along with some tips for making it a tradition in your household.
Ingredients:
1 tablespoon olive oil
3-4 pounds chuck roast 
1 large onion chopped, or two small onions
4 carrots cut into 2″ pieces
1 pound baby gold potatoes
2 cups beef broth or as needed
1 cup red wine
4 cloves garlic coarsely chopped or sliced
½ sprig fresh rosemary
2 sprigs fresh thyme
1-2 bay leaf, depending on size
1 package of McCormick's brown gravy mix
1 tablespoon corn starch
Instructions:
Preheat oven to 300°F.
Season roast with salt and pepper.
In a large dutch oven, heat 1 tablespoon olive oil over medium-high heat. Sear the roast on each side until browned, about 4 minutes per side adding more oil if needed.
Arrange onions around the roast. Combine broth, wine, garlic, rosemary, and thyme. Pour over the roast. Add bay leaf.
Bring just to a simmer on the stovetop over medium-high heat. Once the broth is simmering, cover and place in the oven and bake 1.5-2hours.
Remove roast from over, and spoon out a cup of juice from the pot and combine with the brown gravy package and corn starch – mix thoroughly, and add back to pot
Add potatoes, carrots, and bake an additional 2 hours (for a 4lb roast) or until the roast and potatoes are fork-tender.
Discard bay leaf. Gently pull beef into large pieces with a fork. Serve with gravy from roast!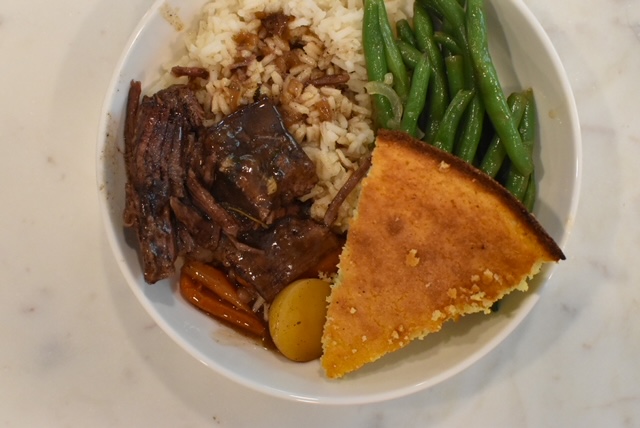 Tips for Making It a Tradition:
Choose a day of the week that works for you and your family. Sunday is a popular choice, but you can pick any day that suits your schedule.
Make it a family affair. Get everyone involved in preparing the meal, setting the table, and cleaning up.
Use this recipe as a starting point, but feel free to experiment with different herbs, spices, and vegetables to make the pot roast your own.
Don't be afraid to make extra. Leftover pot roast makes great sandwiches, stews, and soups.
Enjoy the meal together, and take the time to connect with your loved ones. A Sunday pot roast tradition is more than just a meal – it's a way to build memories and strengthen bonds.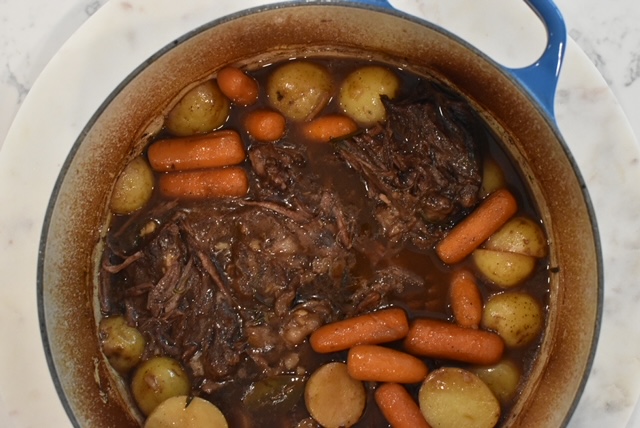 Sunday pot roast tradition is a delicious and heartwarming way to bring your family together. With a little planning and preparation, you can make this meal a weekly ritual that everyone looks forward to. So, gather your loved ones around the table, share some good food and conversation, and make memories that will last a lifetime.