An easy pork chop recipe that anyone can follow…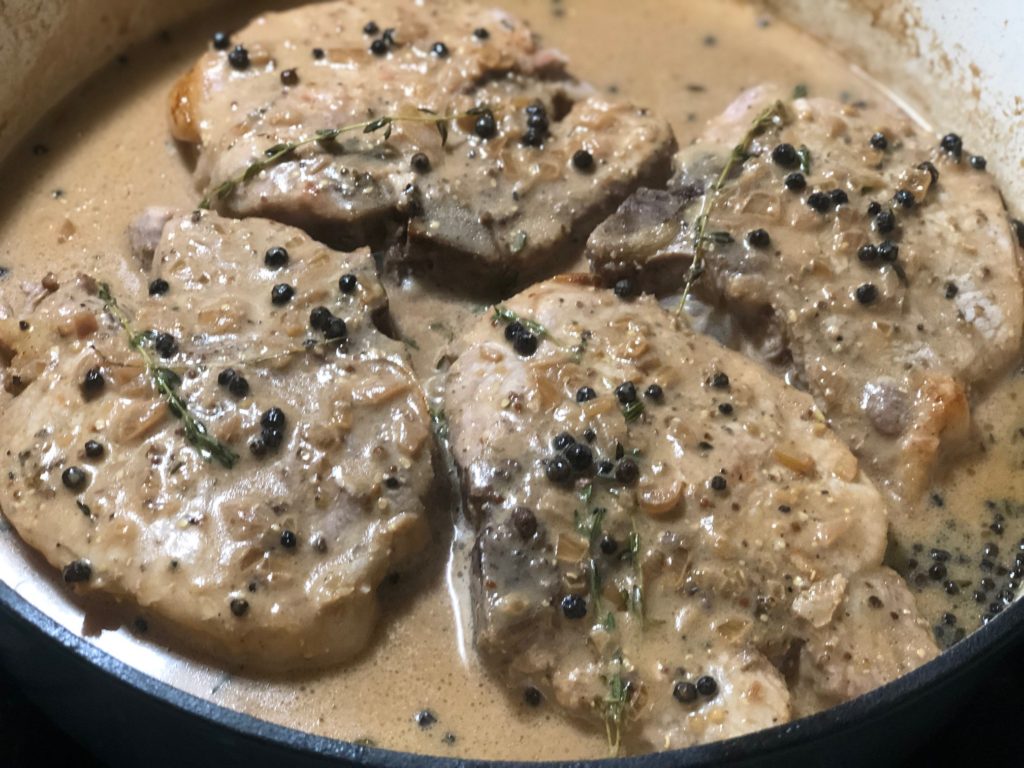 I've gotten so accustomed to pairings, like peas and carrots or slow jams and the 90's, that I've limited myself from experiencing some really good things. I'll wait until winter to pour gravy on most anything. However, upsetting the apple cart isn't always a bad thing.  Which is why Ash and I regularly choose to shake it up a bit.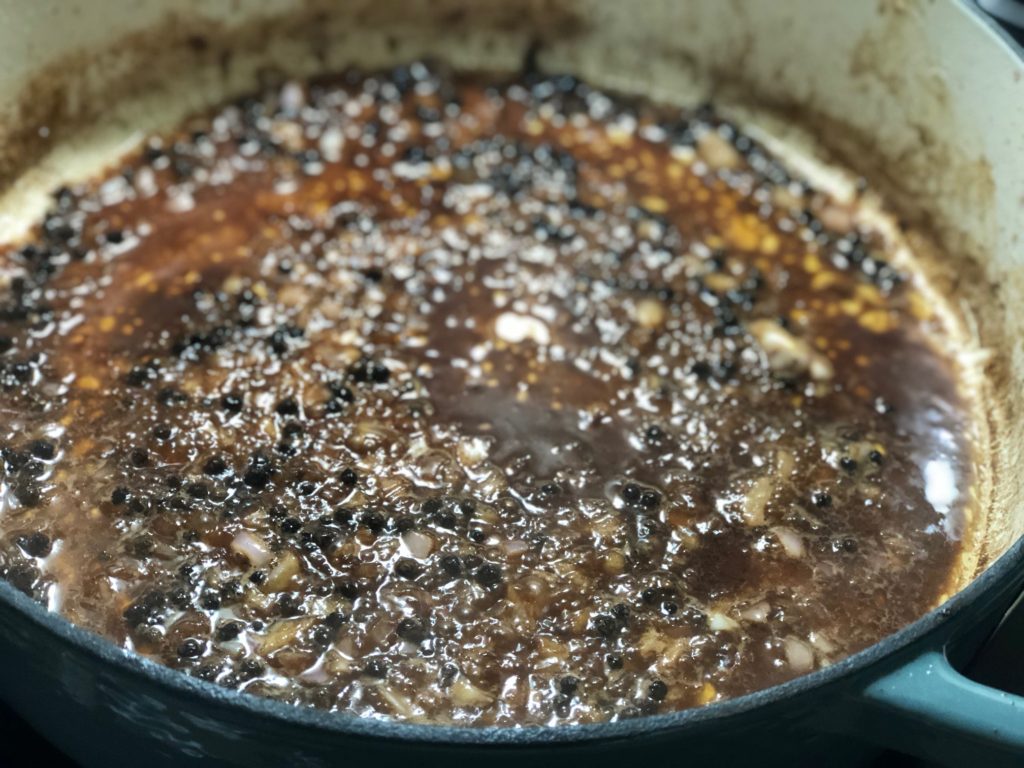 More recently we chose the wholesome flavor of pan seared pork chops smothered in gravy, buttery rice and green beans on one of the hottest days we've seen this year. We weren't filling our bellies ahead of a long day's work, or bracing for winter; we just wanted a square meal to round out our night and pair with a good wine.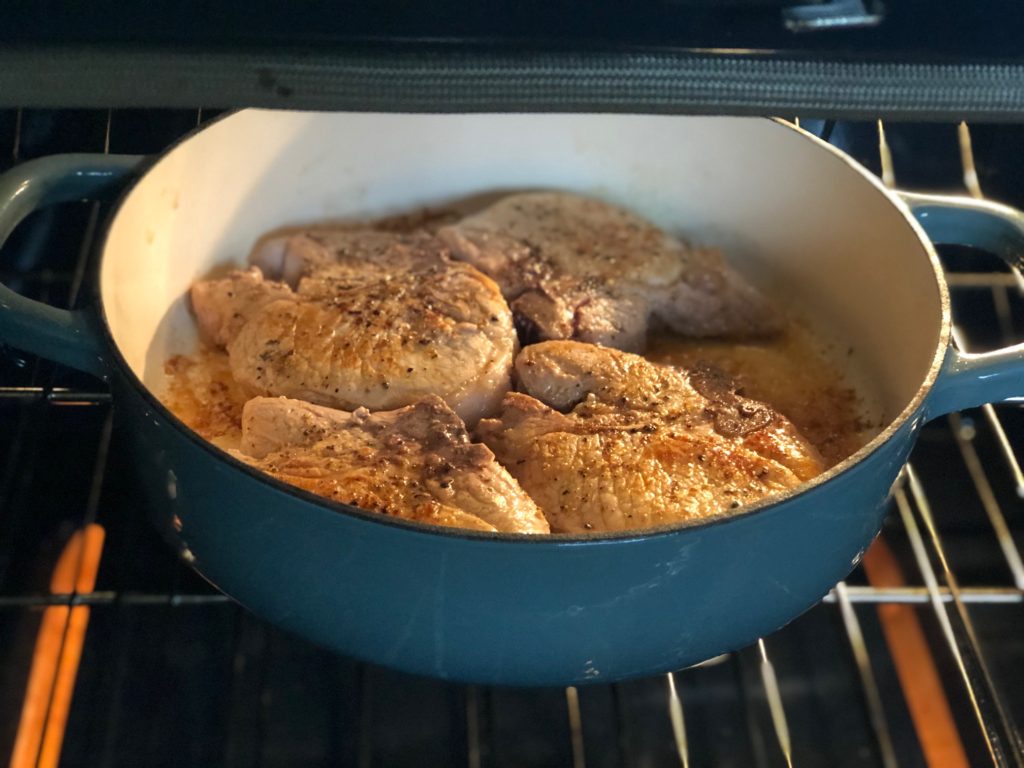 Summer doesn't have to taste crisp, cold or vibrant. Summer can very well be robust and bold; as long as it tastes memorable. The thought of a gravy glazed pork chop and steamy vegetables used to remind me of winter, but today it reminds me of good times spent trying to beat the heat with my wife!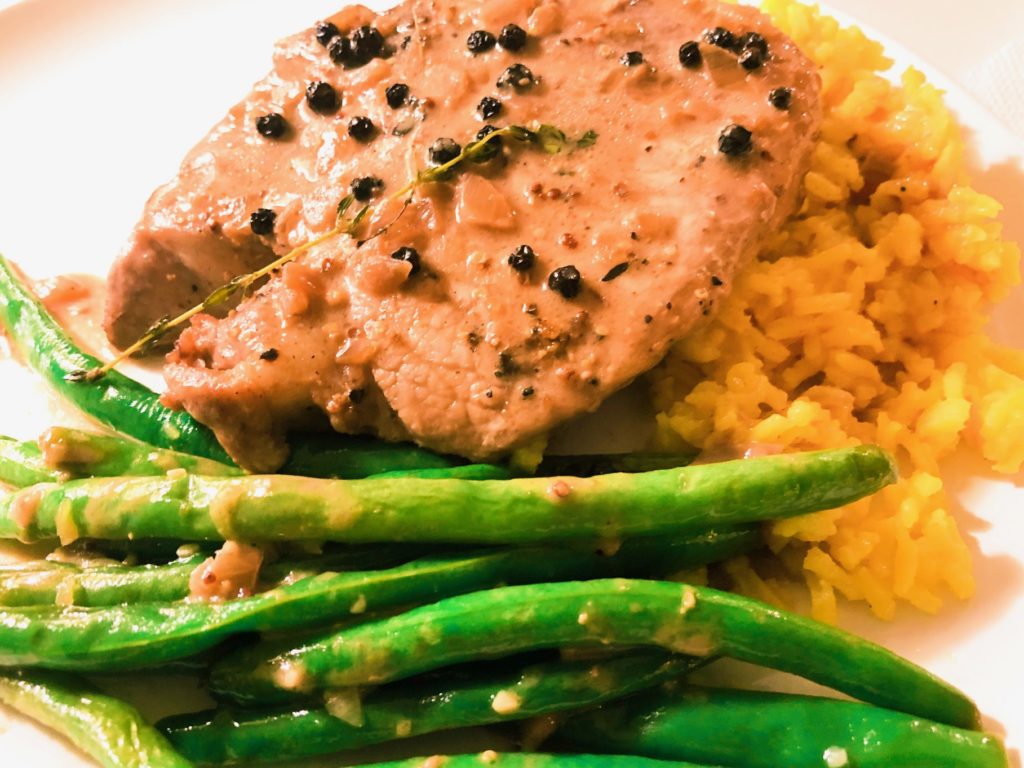 Leave your themes behind you, and cook what you crave.
Ingredients
2 one-inch thick bone-in centre cut pork chops
1 1/2 Tbsp butter
1 Tbsp olive oil
Salt and freshly ground pepper
2 Tbsp flour
The Sauce
1 Tbsp butter
1/4 cup very finely chopped shallots or onion
2 – 3 tsp crushed peppercorns black, green or red or a mixture
1/4 – 1/3 cup red or white wine or dry Marsala wine
1 cup chicken or beef broth
1/2 tsp Dijon mustard optional
2 – 3 thyme sprigs
1/4 cup heavy cream or lighter cream and add more thickener
Salt and freshly ground pepper to taste
To thicken gravy (add only as much as needed):
2 Tbsp cornstarch
1 Tbsp water
Cooking Directions
Preheat oven to 400F.
Heat olive oil and butter in an oven-proof or cast-iron skillet over medium-high heat. Pat dry pork chops and season with salt and pepper. Scatter flour on plate and dredge pork chops lightly on both sides. Sear chops in hot skillet until lightly golden on both sides. Pop the skillet with pork chops into preheated oven and cook until pork reaches 135F, about 10-12 minutes (depending on thickness of chops). Note that this is a little undercooked because it will cook a bit further on the stove-top and a bit more as it rests, so it will get to the recommended 145F in the end.
Remove from oven and place over medium-high heat on the stove-top. Quickly brown the chops on the stove-top, then remove to a plate to rest.
To the hot skillet, add 1 Tbsp butter, onions and peppercorns and stir until onions are golden, about 1 minute. Add wine and cook, stirring until mostly evaporated, about 1 minute. Add broth and thyme sprigs. Reduce heat to medium and allow sauce to simmer/reduce for a few minutes. Add cream and then salt and pepper, to taste. To thicken gravy, combine cornstarch and water in a small bowl, stirring until smooth. Add a bit at a time to your hot gravy, stirring, until desired thickness is achieved.
Spoon hot sauce over pork chops. Finish with a generous grind of freshly ground pepper.