Last on our tour tour of SE Asia, is Siem Reap, Cambodia. Strangely enough, or maybe not, this was one of the places that felt like home. Maybe it's because I was well-attended to, after severely spraining my ankle on Day 2 in Bangkok. Literally, Cambodia was Day 3 of 14 in SE Asia, so as I'm sure you can imagine, both Mitch and I were a little worried about how this was all going to pan out, as they wheeled me out of the airport. It would turn out just fine :).
Be sure check our travel stories out on Instagram for beautiful video and more detail!
Note: we were there in March, and this post is not sponsored in any way.
TOP 3
Where to stay
I'm going to start this off by shouting out Bong, who was an awesome host at Model Angkor Resort. The hotel is a 5-star nestled in the middle of Siem Reap. It took our guides no time or confusion to find us. The service was impeccable, and the food and stay even more-so. They were upgrading the grounds while we were there, and I here it's even more beautiful now. Check out the added saltwater pool below! I would give our stay a 5/5.
Where to SPA!
We didn't have long in Cambodia to actually find an spa facility. But that's perfectly alright, because the massage onsite at Model was the best that anyone could hope for. I never had to leave our room. And with that new bum ankle, thank goodness. I always rank a massage by how relaxed I become. Well, I was so relaxed that I woke myself up twice because I started snoring in the middle of the massage.
By the end, my masseuse had to wake me up to tell me it was over. Yes, that's how amazing it was. If I could give it more than 5 stars, I absolutely would. Look at those prices!!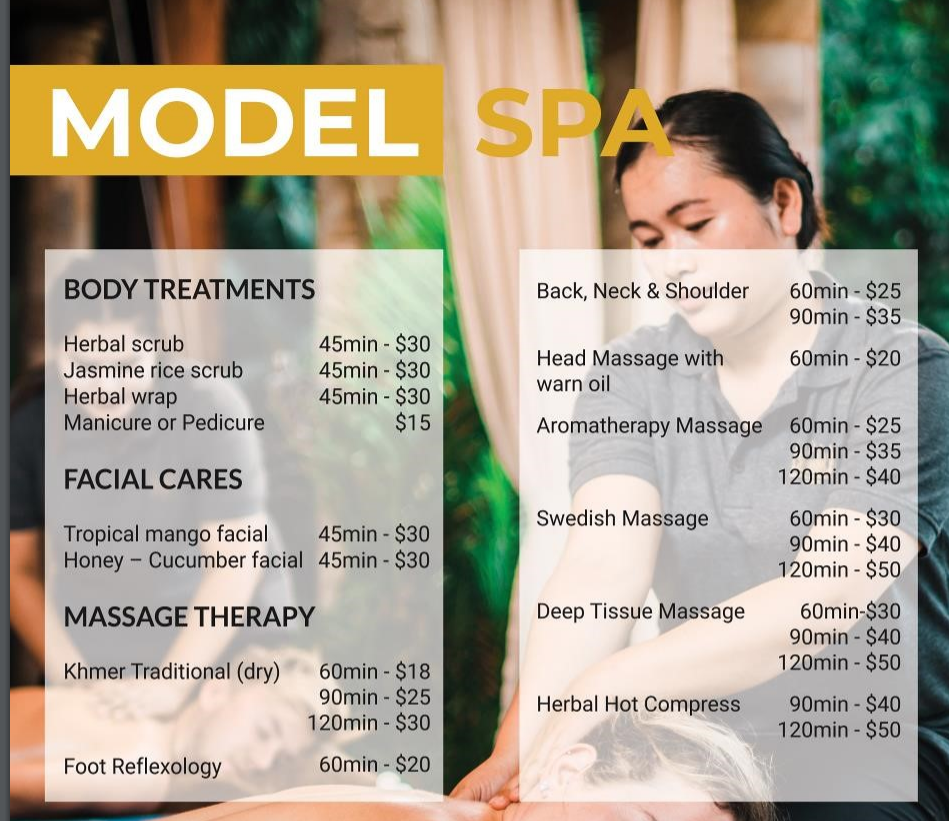 Where to adventure
Where to adventure is always important. When you don't have a lot of time in a particular city, and it's especially your first time, we always recommend doing a tour. My preference in many cases is to do a private tour. We recommend Happy Angkor Tours and doing the Sunrise and Sunset tour. The total came to $92 and this did not include all entry fees into the temples.
The tour was amazing. Mitch and I even considered paying for a visa to allow our tour guide to visit the US at some point. I honestly can't thank them enough. I felt like I had a second husband, and was never made to feel like a nuisance as I hobbled along. 5/5